Achieving the 2019 results at a time like this was a real challenge. With a good dose of perseverance, we have also succeeded in this enterprise, for one of our clients (Boutique hotel in the central area) under our management since August 2020. And the result? The months of June, July and August closed with + 18 thousand euros of room revenue (compared to 2019). This is a case history that we are really pleased to tell.
Published October 12, 2021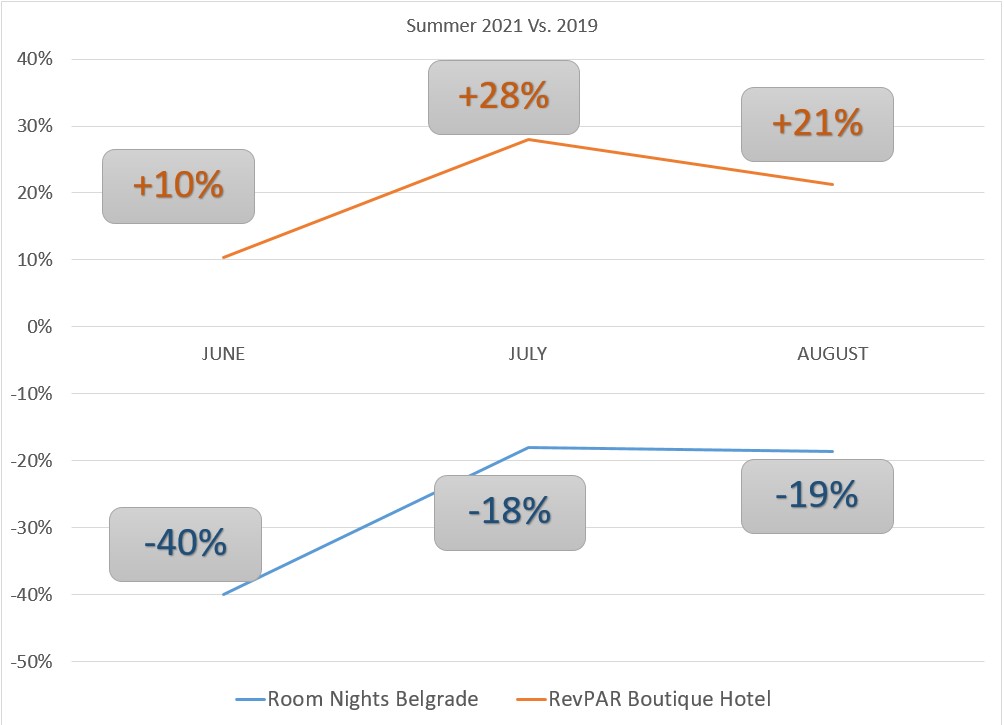 That Covid 19 would change the fate of the market and of international tourism was under the eyes of everyone, both professionals and non-professionals.
Precisely in these moments of profound change and total uncertainty, the answer to get out of it has always been "Revenue Management".
After months of closure and inaction, where uncertainty reigned supreme, the most recurring question was: when and how to reopen?
Our response has always been the same: do not panic, reopen the facility as soon as possible, develop an appropriate pricing strategy, observe the market and wait for its signals.
Of course! The rate, the very one that is a source of discussion and criticism towards Revenue Management: "too low, we are selling off the structure" or "too high, my structure is not worth that amount" ... How many times in recent years have I heard these statements!
Well, once and for all I want to clarify and dispel the false myth of the low rate.
Revenue Management "SELLS": is a technique, a scientific approach to analyze results and sales trends. It required a methodical work which is consistent, accurate, precise, organized and planned.
Everything else is personal perception. (In general a hotelier tends to have a more reactive and intuitive approach or management style).
This year we have accepted a real challenge against the critical situation that we all know of our tourism but above all against ourselves: to be able to achieve the record results of the summer of 2019 for one of our clients, a boutique hotel located in the center of Belgrade (25 rooms), opened in 2018 and taken over by MoreHotelier in August 2020.
Well, we have gone "over the edge" - after all, this is exactly what the revenue manager does - to obtain and improve historical results.
In June, July and August we started from a RevPAR of 5,400 RSD obtained in 2019 (80% occupancy): to improve it we had to carry out a real undertaking, managing not only to increase the average occupancy to 93%, but even to increase the average rate by 2%.
The market responded very well to our tariff requests, which thus allowed us to go further and close the balance with a RevPAR of 6,400 RSD and + 2.2m RSD of room revenue (+18.000 EUR) compared to the 3 summer months of 2019 (+19%).
To this we must add the fact that Belgrade as a destination has suffered a 26% decrease in room nights in the 3 summer months of 2021 compared to 2019 (June -40%, July -18%, August -19%, source "Republički zavod za statistiku").
Miracle? Absolutely not, simply Revenue Management.
Fabio Morandin
CEO at MoreHotelier, Outsourced Revenue Management