At the beginning of 2018, after several years of professional experience in the hotel industry, with a focus on Revenue Management (in hotel chains and hotel management companies such as Starwood, HotelBrain and Xotels), he decided to found the first consulting firm MoreHotelier for Revenue Management on the Balkan Peninsula.
During his +10-year experience in this sector, he managed more than 30 different accommodation facilities in 9 countries across Europe. In addition to Serbia, these are: Italy, France, England, Portugal, Switzerland, Belgium, the Czech Republic and Montenegro.
With his team of Revenue Managers, he is currently doing Revenue Management for 12 hotels (4 and 5* hotels, with a total of about 1,300 rooms) in various locations in Serbia (Belgrade, Zlatibor, Kopaonik, Vrdnik Banja, Sokobanja, Divcibare), and Croatia ; and are in charge of Revenue Management in two Holiday Parks in England (Devon County) with a total of 200 accommodation units and 700 combined accommodation units and grounds.
1. Some general definition of revenue management is "Selling the right room, to the right client, at the right time, at the right price, through the right distribution channel, with the best profitability". What does revenue management actually represent?
Revenue management is a technique. The basic principles of revenue management are dynamic pricing, in which it plays the main role: forecasting demand, managing room availability, and monitoring and responding to competitors' prices, so that hotels can achieve the best possible financial results.
North American hotel chains started applying revenue management principles already in the early 80s of the last century. Today, almost all hotel chains have their own revenue management department.
"Selling the right room, to the right client, at the right time, at the right price, through the right distribution channel, with the best profitability" means that revenue management means selling available accommodation units to the "ideal" customer at the highest possible price for the longest possible period of stay. Any lower price or shorter stay would lead to a loss of revenue, while a possible price increase could lead to the loss of a guest.
Understanding the categories of guests, both current and potential on the market, is a prerequisite for defining hotel room prices. The recognized market segment of each hotel enables the creation of different price options. Thus, some segments will achieve the highest prices (e.g. Rack - the highest price without a discount is intended for individual "non-contracted" guests), with a range of price classes to the lowest prices (e.g. promotional prices without the possibility of cancellation intended for "web" guests). The hotel's task, through revenue management, is to identify the most profitable segments and achieve an optimal market mix.
As I said at the beginning, revenue management is a technique, a scientific approach to analyzing your results and sales trends. This requires methodical work that is consistent, accurate, precise, organized and planned.
There is one key element that is crucial to achieving results through revenue management in hotels: Structure is the core of success. Structure comes in many different forms: Data structure in reporting, analysis, pricing, systems, strategies, and communication.
2. Abroad, even in the region, revenue management is widely represented, here it is increasingly present, but it still seems insufficient. How important is revenue management for hotel profitability?
When clients talk to us for the first time, they often have the same question: "How much additional revenue will I earn using your outsourced revenue management services?"
To which the only honest answer is: "We don't know." It depends on so many things. However, we have a rough rule of thumb.
We say that by applying revenue management best practices, we deliver at least 15% to as much as 40% more room revenue to hotels. This is often difficult for hotels to imagine. For a 50-room hotel, this could be up to €400,000 per year!
That's just pure revenue from the rooms. Imagine what the additional spend could be in other revenue streams (ie breakfast, bar, restaurant, parking, spa, etc.)

3. Basically, we currently use revenue management only in hotels and that mainly for the room sector. How can revenue management be used?
Revenue management is applicable in any industry where different customers are willing to pay different prices for the same product, where there is only a certain amount of that product for sale, and where that product must be sold before a certain time (impossibility of storage).
In addition to hotels, today many more industries use revenue management: airlines, car rental, railway companies, theaters, cinemas, restaurants, etc.
4. In order for us to become even better acquainted with the basics of revenue management, could you share with us what the basic revenue management metrics are?
At MoreHotelier we believe that "if you can't measure it, you can't improve it".
Managing a successful hotel must be one of the most challenging jobs, due to the sheer volume of responsibilities required. With so many departments and so many people you are responsible for, it can be very difficult to find time to review your performance.
However, measuring success through Key Performance Indicators ("KPIs") is vital for hotels. Basic revenue management metrics are:
Revenue per available room (RevPAR)
RevPAR tells you how much revenue you generate for each available room. It is a good indicator of the general "health" of your facility. If you increase your RevPAR, you will be moving in the right direction.
If your average daily price is 110 EUR and the occupancy rate is 73%, then your RevPAR is 80.30 EUR (110*73%). This is the amount of revenue you generated per available room for that period.
NetRevPAR (or NRevPAR) – Net revenue per available room
The NRevPAR metric is used to calculate the net revenue generated per available room in a hotel. In this context, net income refers to the realized income from the room minus the costs associated with the distribution of the room. As a KPI (key performance indicator), it provides a picture of how much the hotel is successfully earning from each of its available rooms.
Total revenue per available room (TRevPAR)
TRevPAR is the total revenue you make per room, including extras like breakfast, mini bar and other services. This makes it a clearer reflection of your total revenue than RevPAR. To get TRevPAR, you must divide your total net revenue by the number of available rooms. So if, for example, on top of your €2,420 room revenue you earned another €100 in extras, your TRevPAR will be €2,520 divided by 24, which is €105.
Average length of stay (ALOS)
ALOS is an important part of understanding the typical behavior of your guests. Knowing how long guests stay will help you be smarter about the deals and promotions you offer.
ALOS is simply an average figure, obtained by dividing the total number of nights per room by the number of reservations. Let's say that during April, your property receives 200 overnight stays, and those reservations come from 50 different guests. This means that your average length of stay for April is 4 nights (200/50).
Other KPIs are: OCC - Occupancy rate, CPOR - Cost per occupied room, GOPPAR - Gross operating profit per available room, ADR - Average daily rate, CPOR - Cost per occupied room, GOPPAR - Gross operating profit per available room, percentage of direct income, website conversion percentage, ROI - Marketing cost per reservation, etc.
5. What exactly is the difference between Revenue and Yield Management?
As a pricing strategy, Yield Management is concerned with generating the maximum possible revenue from perishable inventory. In hotel management, this means using data to ensure that the right room is sold to the right customer, at the right time, at the highest possible price.
In fact, it is about using price discrimination to optimize business results. Hotel guests are conditioned to pay different prices for the same product, depending on when they stay at the hotel, how close to their arrival date they made the reservation, the level of room demand and various external factors.
Revenue Management is a related concept, although it has a broader focus. It deals with maximizing revenue from hotel rooms in the same way, but also deals with cost of sales and money earned from other aspects, such as food and laundry services. It can therefore be described as dealing with the big picture.
6. In order to better understand the importance of revenue management, it would be good to know what a revenue manager does. What does a working day of a revenue manager look like?
In the morning, after turning on the work tools, we download reports to get updated sales data from PMS.
We analyze the data by tracking the entry of new bookings, the state compared to previous years (the current state VS. "Last Year" and the current state VS. "Same Day Last Year") and go into detail about the days in which a significant movement was observed (and positive and negative).
We contact hotels to request additional information and continue to develop strategies and implement actions based on this. At the same time, we send the same information to hotels (via the "daily report").
We update availability on all sales channels.
We support hotels to offer every group request.
We periodically analyze the performance of the entire hotel, which we use to set a long-term strategy for various channels (the so-called "weekly or monthly reports").
All of this is then shared with hotels before going live, to assess any inconsistencies with other initiatives and other segments: we want to ensure that working on B2C channels doesn't cannibalize other segments/channels.
We are always looking for new ways to use the "hidden potential" of the hotels we manage (creating ad-hoc packages, "Special Offers", loyalty programs, OTA optimization...) and reduce distribution costs.
7. What are the biggest challenges faced by revenue managers during their work?
One of the biggest challenges facing hotel revenue managers is the task of balancing occupancy and pricing to maximize revenue from room sales.
At all times, we have to set the right price for each room based on demand, competition and other factors, while ensuring that the hotel is always full.
This requires a deep understanding of market trends, customer behavior and hotel KPIs, as well as the ability to analyze and interpret data to make the right decisions. In addition, revenue managers must work closely with other departments within the hotel, such as sales and marketing, to ensure that their pricing strategies are aligned with overall business goals.
8. As an outsource revenue management company, you work with multiple hotels and other accommodation facilities located in different locations. What are the most important tools and strategies you use to adapt to each market and each individual guest?
Our company uses a combination of multiple tools and strategies to adapt to each market and each customer.
In order to be able to adapt to each client and to get to know the market and work better, we use some of the following strategies:
- Analyzing past sales data is an important aspect of revenue management for hotels, as it allows us to make informed decisions about pricing, promotions and hotel contingent management. By analyzing past sales data, hotels can identify patterns and trends in demand for different room types, amenities and services. This can help hotels optimize prices and inventory levels based on expected demand. Mostly the comparison periods are LY (last year), LY-1, LY-2 or even longer time periods.
- Past sales data can help hotels identify periods of high and low demand, as well as price trends for different seasons and events. Based on this information, hotels can adjust their pricing strategies to maximize revenue during stronger periods and maintain occupancy during periods of low demand.
- Segmentation involves dividing guests into different groups based on their needs and preferences. We use segmentation to develop targeted marketing strategies and promotions that are tailored to each guest's unique preferences.
- Forecasting: After familiarizing ourselves with the hotel and how it operates, we use models to predict future demand and adjust prices and levels of available contingents accordingly. This helps us optimize revenue and occupancy over time. Some of the most important parameters we take into account when forecasting are "Room Revenue, ADR, Occupancy, RevPar".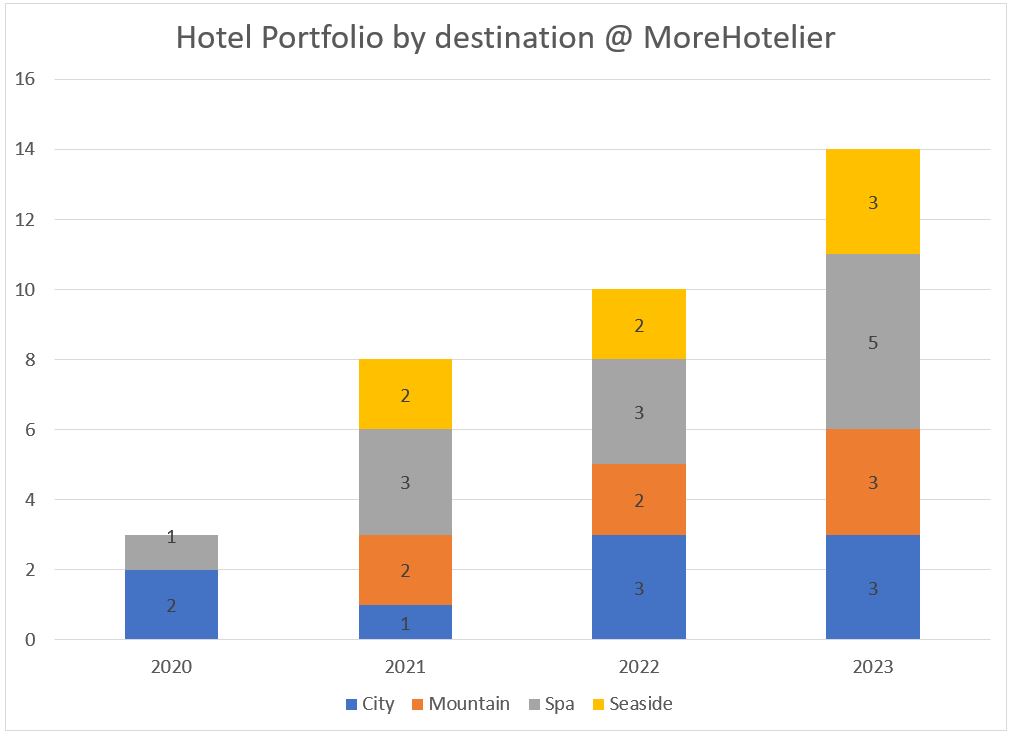 9. When we learned a little more about the position itself and what revenue management is in general, it is very important to mention the importance of daily education. What are the knowledge and skills that distinguish top revenue managers?
If we focus on the first part of the article, we understand that the revenue manager in a hotel is the person in charge of guiding the pricing strategy in order to maximize the profitability of the hotel. Some of the extremely important skills and knowledge that a revenue manager must possess are: leadership, analytical, dynamism in work, knowledge of working with several types of technologies (RMS, PMS, CHANNEL MANAGER, OTA-s) and curiosity in work.
10. For revenue management, data is "gold". What do you think the role of revenue manager will look like in the future and how much will the appearance of new tools and AI technologies affect that job?
AI technology (or Artificial Intelligence) has made a huge impact on several industries over the years and the hospitality industry is no exception. From reception to revenue management, it marks its territory in every single segment of the hotel business.
Today, the way in which Revenue Management in hotels is powered by artificial intelligence has been revolutionized for praise.
Data collection is one of the first and most important things in revenue management. Without the right set of data, optimizing a hotel's revenue channel is like drawing blood from a stone.
But with artificial intelligence and machine learning, the process becomes extremely simple as most aspects are automated. Further, machine learning algorithms are trained to collect specific types of data. However, many might argue that artificial intelligence for hotel revenue management would exclude human jobs. But in reality, AI is more likely to work in collaboration with humans.
Looking to the future, technology will be a vital player in the hospitality industry. Hotels that will take advantage of these technologies are the ones that will stay ahead of the competition.
You never know, a few years down the line, every guest might be able to see a personalized room rate on hotel and OTA websites.
Fabio Morandin
CEO at MoreHotelier, Outsourced Revenue Management