OUTSOURCED REVENUE MANAGEMENT
MoreHotelier is offering the best solution to the shortage of qualified revenue managers in the market and providing a real alternative to hiring your own revenue manager.
By implementing best practices in revenue management and proven techniques we are delivering at least 15 up to 40% incremental room revenue to hotels.
That is just on top line room revenue. Imagine what the additional spending in ancillary revenue streams (i.e. breakfast, bar, restaurant, parking, spa, etc) could be.
We will handle your complete day-to-day revenue management, from pricing, distribution and forecasting, right down to the ad-hoc group quotation after it has arrived at your reservation agent's desk. Just like your own employee, only remote.
Our experience has shown that remote revenue management is as successful and efficient as having your own revenue manager on site and there will always be one person taking care of your hotel.
Using webinars and video calls we ensure easy, clear and effective communication with you.
Prior to and throughout the entire process we will regularly review the situation and strategic alignment with the key management team on site.
That way you will always stay in charge and take part in the decisions taken for your hotel.
Confidentiality is very important to us! Obviously your data will never leave our offices.
Have a look at our standard revenue management offer. Alternatively, you can tell us exactly what is important to you and we will tailor the offer to your needs.
STANDARD OUTSOURCED REVENUE MANAGEMENT OFFER
1) YIELD MANAGEMENT
Daily pick-up analysis, strategy adjustments and reporting (Weekly analysis on Mondays)
Create and maintain a 12 months rolling demand calendar
Room type yield management
Length of stay yield management
Inventory availability by channel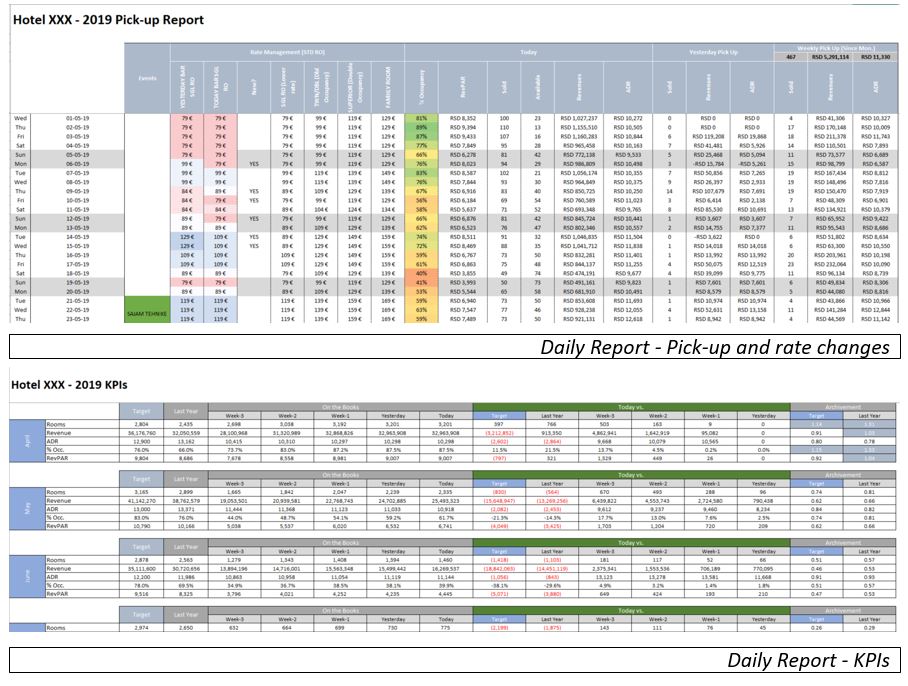 2) BUSINESS AND LEISURE GROUP STRATEGY
Implementation of group quotation guidelines
Individual quotations of all groups
3) FORECASTING AND BUDGETING
Rooms revenue forecast, current +3 months (expected results, variances and budget comparison) - Weekly
Analyze overall monthly performance and provide summary report with recommendations to improve long term strategies
Completion of rooms revenue budget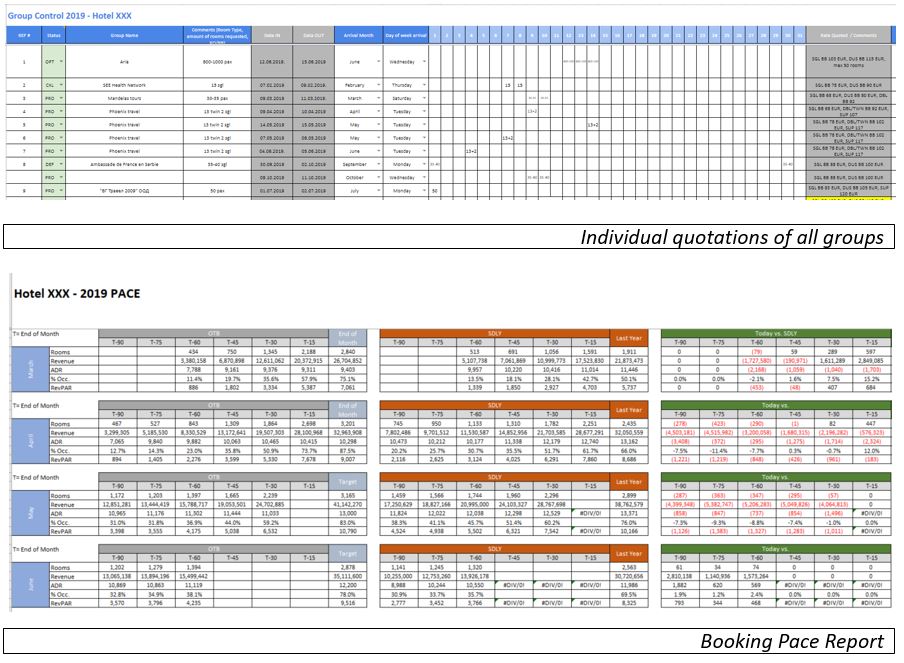 4) MEETINGS AND COMMUNICATION
Revenue strategy webinar with key management team - Weekly
Ad-hoc communication
5) SEGMENTATION STRATEGY AND PRICING OF ALL SEGMENTS
Daily public BAR pricing
Optimization of public rate strategy
Competitor and market share analysis – perform competitive benchmark studies and follow market trends
Strategy optimization of fairs and high demand days
Corporate and tour operator pricing and availability strategy
Evaluate performance of distribution partners and contracted rates (OTA, FIT, tour operator, corporate, groups…)
Reduce the cost of distribution by finding new less expensive means of delivering business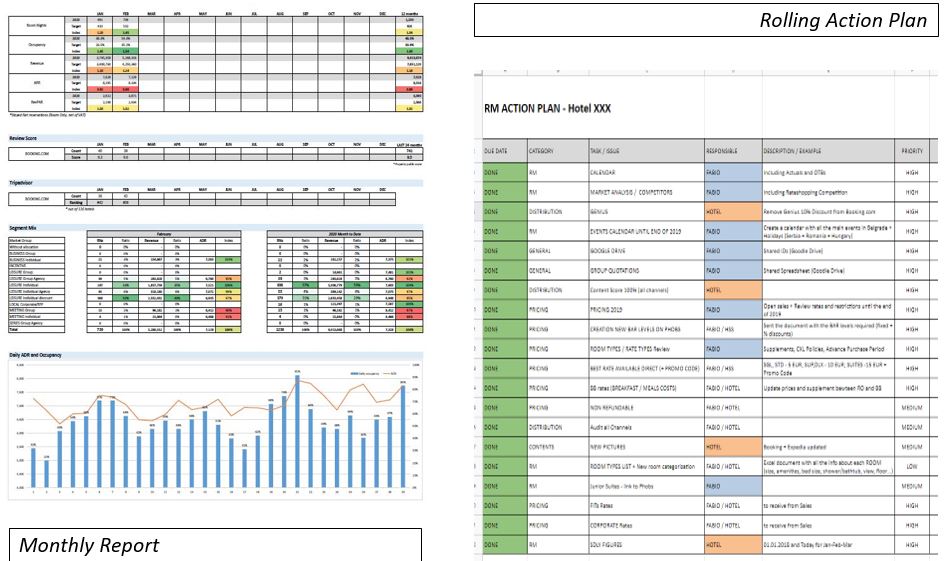 6) DISTRIBUTION
OTA optimization, selection of right partners, content, specials, packages
Endure all related systems are configured correctly, validated and working to full capacity
Cost analysis per channel and optimization of distribution costs
Ensure website booking process is maintained up-to-date and functional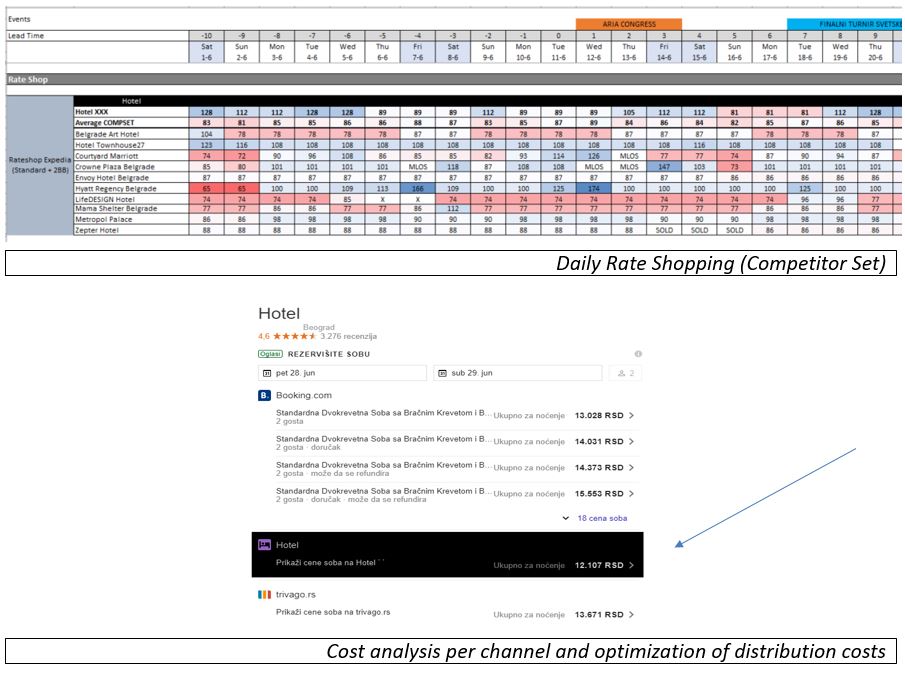 Do you want to get more info? Ask MORE!